by maralyn ellis


When my eldest son turned 12, we took him to the barber and he left shorn of his long locks with a short, short (did I say short?) buzz cut. Exactly four days after his birthday we marched to our local Army Cadet Corps and he spent one night a week at the Armoury for nearly the next seven years of his life.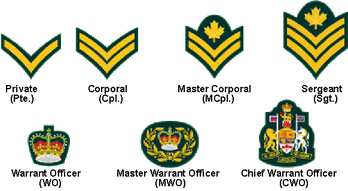 The benefits of Army Cadets were numerous. My son, who used to be too shy to request crickets for his lizard at the local pet store, was soon collecting the most money for the Legion Veterans selling poppies for Remembrance Day. He was participating in parades, earning star levels, rising through the ranks from Private to Warrant Officer, instructing junior Cadets at various star levels and in drill, achieving his National Star Certification, Wilderness First Aid, Belaying proficiency,
Duke of Ed
, map and compass...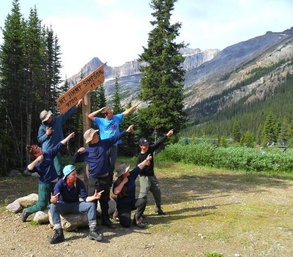 In the summer, my son was spending six weeks at Expedition training camp at the Forces base in Borden, and one summer he was flown out for the once-in-a-lifetime experience of the
Rocky Mountain Cadet Summer Training Centre
. The Cadets experienced a new expedition each week: hiking, horseback riding, mountain biking, white-water canoeing or kayaking, mountain climbing and glacier climbing (whew! just listing the activities is exhausting, never mind doing them at high altitude!). My son's favourite experience was glacier climbing with its 360° view from the top of the mountain. In his own poetic words (okay, granted they were written for an English assignment, not at his own initiative!), "The mountains were like frozen waves in an endless ocean that drown you in their beauty." And that's not all, other Army Cadet summer camps focus on Basic Training, Drill and Ceremonial and Marksmanship. The Sea and Air Cadet summer camps offer everything from Seamanship or Aviation to Survival (click
here
for more). A few of our Corps' Army Cadets followed the elite para training route and earned their parachutist wings jumping from airplanes. A well-earned distinction for theses Cadets who have gone on to become Reservists of the Canadian Forces while they attend university.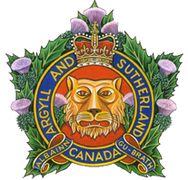 And that's my segue into speaking of the incredible military co-op program that exists for high school students (as I did not intend to just write about my son's experience as an Army Cadet!). At age 17, some Cadets leave their Corps and join the Reservists. As an alternative, through this co-op program, high school students can earn 2 co-op credits, 1 phys-ed credit and 1 math, English or other credit over a semester. Plus they are on their way to earning a SHSM (Specialist High Skills Major) in
Justice, Community Safety and Emergency Services
.
If a student is accepted into the Forces co-op, a whole semester is spent at their participating Armoury. In Hamilton
it's with the Primary Reserves for the Royal Hamilton Light Infantry (the RHLIs or "the Rileys") or the
Argyll and Sutherland Highlanders ("the Argylls" - who incidentally have a real badger head for their "sporran" or waist pouch with their kilt... I've seen it!).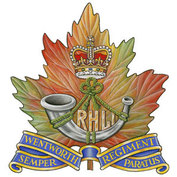 A typical day at the military co-op looks like this:

07:50 - Roll Call
08:00 to 12:00 - Military Classes
12:00 - Lunch (catered)
12:30 to 14:30 - Math/English/Other
14:30 - PT (physical training) on some days

There is also one weekend FTX (Field Training Exercise).
As Reservists, students earn approximately $45 per half day or $90 per full day for their training. Additionally, they may choose this as a part-time job for life... and if they do decide to further their education after high school, they receive money towards their tuition!
Sound like a grand opportunity? Borrowing the cautionary words of one of my colleagues (he spent 5 years in cadets and 8 years in the Forces), "The army taught me a lot. I guess my feeling is that if a kid has an ambition to do it, it is good to support them in that, but it is also good to make sure they have an opportunity to see that there is always more than one path to take."
The application process for this military co-op program is quite rigorous and can take up to 3 or 4 months. It includes going to your school's guidance office, filling out applications, including the online Forces app, a PT test, practicing and writing an
aptitude test
and more (click
here
for a "how to" in the Halton/Hamilton area). Before going ahead with applying, you will want to put more research into the Primary Reserves and the expectations of you as a Reservist (click
here
for more information) and consider attending an information night (contact your local Reserves to find out if they support this co-op program and have an event planned for students and parents/guardians).
The decision to join the Forces or the Reserves is a big one. This co-op program allows students the opportunity to have a hands-on experience in the military that they may or may not choose to pursue after high school. In the words of another friend of mine who was a Reservist for 9 years (4 in school and 5 in service), "
I think most young men [and some young women!] think about the military at some point. In retrospect, I don't regret it because it allowed me to learn a bunch about myself and about society... and remember: the vast majority of people that join the forces do so because they want to make things better in the world and the military seems to offer this chance. So this desire to join is probably coming from the right place."